COAT-RESIST is a compact point level switch with integral electronics, based on RF Admittance measurement technology utilizing a three electrode design with active shield compensation. It is superior in performance to conventional capacitance based systems that often suffer from false level detection due to service material adhering to the probe electrode. It offers a satisfactory solution in tough environments where service material has a tendency to coat, where there is bridging (build up) of material between the probe electrode and side wall of the vessel, where, material particles having electrostatic charge float in the vicinity of the sense electrode, and the vessel internal temperature is high. Such environments are often encountered in electrostatic precipitators wherein no other instruments are suited. The instrument has a built in discharge device to protect it from damaging effects of static electricity.
Salient Features:

Not affected by material build up on side walls and coating on probe
Protected against frictionally induced static charge due to material movement in the vessel
High sensitivity so operates reliably in low dielectric materials like Fly ash and Plastic chips
Bar graph LED display for ease of calibration and material trend indication
Built-in Universal switched mode power supply for AC / DC operation
Field selectable Fail-safe mode for High and Low level operation
Field adjustable switching delay for probe covered and uncovered condition
Robust in construction to withstand the rigors of plant environment
High temperature versions available on request
Various mounting arrangements available to suit customer needs
Remotely mounted electronics version also available on request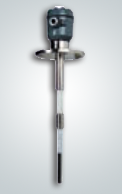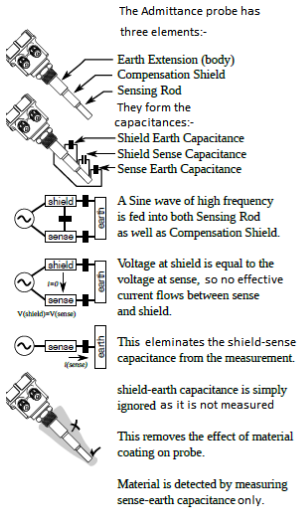 Operating Principle
The probe comprises of three elements; Sense, Shield and Ground electrically insulated from each other by means of suitable insulators. The Sense element and the vessel wall (Ground) serve as the two electrodes of an electrical capacitor with the service material as the dielectric. A change in material level causes a change in the Admittance which is measured by the electronics. A Radio frequency oscillator generates the measuring frequency. An impedance transforming shield isolation amlifier is used to drive the shield actively to maintain the equipotentiality between the probe and shield electrodes thereby immunizing the probe from build up and coating. For clarity please refer to the figure on the left.

Applications
Level limit detection of fine, coarse, solids of low dielectric constant that have a tendency to stick coat and develop static charge at high vessel temperatures and in bulk material handling. Can be used for level detection of powders, sand, sugar, pulverized coal, food grains, cement, stones, gravel, flyash, bed-ash, clinker etc. Coat-Resist finds use in cement plants, power plants, ash handling systems, soap and detergent plants, paints and emulsion plants etc.